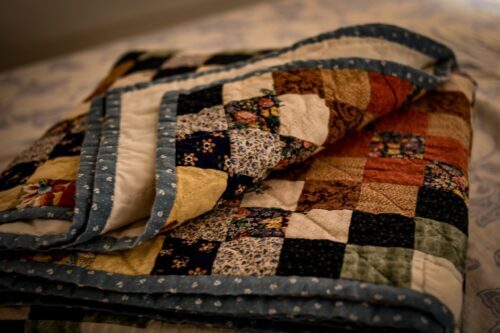 Guild Meeting – Member BINGO
January 25, 2022 @ 5:30 pm

-

9:00 pm
Meeting Agenda
5:30 p.m. – Sit & Sew:
Sit and sew with friends or spend time socializing during the optional pre-meeting time.
5:45 p.m. – Demos:
Some months we have a special member-led demo or learning program planned.
6:30 p.m. – Program:
We kick off our 31st year at the January 25th meeting with our annual bingo bash. We will play 10 games with prizes for the winners and consolation prizes for games with multiple winners. So bring a marker and get ready to play bingo. Doors open at the FIREHALL at 5:30 PM with games starting at 6:30 PM. Bring a drink or snack as the membership voted to stop group snacks at monthly meetings.
Around 7:45 p.m. – Business Meeting
Around 8:15 p.m. – Show & Tell:
Every meeting features a "Show & Tell" time. Bring your finished quilts to display, with the opportunity to show and talk about it to the guild. We LOVE seeing quilts and especially enjoy the stories that go with the quilts!
Share This Story, Choose Your Platform!