Dear QOL…
Can anything be sadder than work left unfinished? Yes, work never begun. — Christina Rossetti, author, poet
Finishing all your projects. Don't bother. The whole reason we begin new projects is to enjoy that satisfying blast of creativity that comes with starting something new. — Laura Wasilowski, quilter, instructor, designer, funny person
Before heading out for a 4-day retreat this past January, I neatened my sewing room, organized my holdings, and made a list – yes, pen to paper – of all the projects I have started cutting and sewing, as well as those that are fabric bundles in a basket. Well, they are also "started," just in a different way.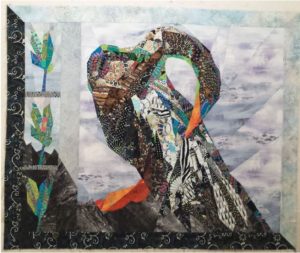 Art Quilt
Made by Susan Stiles
It's surprising how having such a list serves as inspiration for both new projects and old.
Looking at the works-in-progress brings me back to the way I felt when I began them – in love with certain fabrics, anticipated pride in getting it done, and the imagined joy of the person I intend to gift with my creation. Like you, I also have projects that don't feel quite as inspiring and fun as they once did but are still much too nice to stay unfinished. And don't we all sometimes feel that we've started things that turn out to be overly ambitious?
I've had that apprehension for a few months. It can be a nag. I really wanted to learn a new skill but wondered if I had gone overboard.
I kept at it. This past week, I was able to finish piecing an art quilt that I started last October in a workshop. In the beginning of the workshop, I had that "satisfying burst of creativity"…then the serious work began. At the time I left the workshop, my pattern, laboriously drawn and cut and tacked to a foam-core board, was only partially covered with a few dozen fabric pieces. The instructor had sent us packing with several rather challenging directives: don't sew anything until ALL of the pieces are cut and pinned, and also, sewing it all together would be the easy part.
By the time I finally got all the fabric cut and started sewing one section (that had only 4 pieces), I discovered, to my amazement, that I was going to be able to do it, one section at a time. Not all the fabric choices are perfect, and there is a certain undulation in the background (I think it gives it a nice watery feel, don't you?), and I still have to quilt it. I'll be moving it to the long-arm shortly, getting my design wall back, and thinking about what I want to continue to work on next.
I think it will be both something old, and something new, and something I can cross of the list.
Happy spring!
Susan