Article reprinted from The Aegis newspaper, highlighting Peg Dougherty, our 2019 Quilt Show Featured Quilter: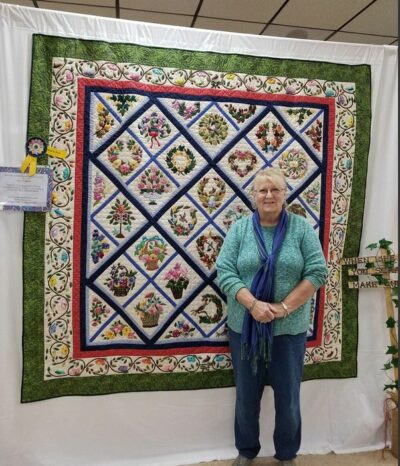 Peg Dougherty of Pylesville will be the featured quilter at Quilting on the Line Quilt Guild's biennial quilt show Nov. 2 and 3, 2019.
The guild is a group that promotes fellowship for quilters of all ages and talents and members, who come from Harford and Southern York counties, will be exhibiting their traditional, contemporary and art quilting work from the last two years.
The guild will also present Challenge Quilts, Mystery Quilts, Quilts of Valor, and Row by Row Quilts.
The quilts will be displayed at the Jarrettsville Volunteer Fire Company's Jarrettsville Gardens, 2835 Federal Hill Road, on Nov. 2 from 10 a.m. to 5 p.m. and Nov. 3 from 10 a.m. to 4 p.m. A craft boutique, silent auction and vendors will be available.
Refreshments will be provided by the Jarrettsville Fire Company's auxiliary. Admission is $10 for two days and includes a free ticket for the raffle quilt "Springtime Stars."
For more information contact Quilting on the Line, 410-941-9399 or quiltingontheline.com.
Dougherty is a nationally and internationally recognized quilter whose work has toured the United States. She is a repeat blue-ribbon winner at the Harford County Farm Fair, the state fair and international competitions.
"Three of my quilts have traveled around America as part of the Hoffman Fabric Challenge. Hoffman also awarded one of my quilts first place for mixed technique," Dougherty said.
A master of techniques, Dougherty tries to challenge herself with each new quilt, she said. The quilts are hand or machine quilted.
To make her unique designs, she uses various types of techniques including fabric piecing, appliqué, embroidery and embellishments such as beading.
For new quilters, Dougherty urges them to "try everything.
"Don't get stuck with one style. A new quilt is an opportunity to attempt something different. Do not obsess over mistakes. Mistakes can become 'design elements,'" she said.
Dougherty's favorite quilt? "The next one," she said.
Dougherty started her quilting journey at age 5, threading needles for mother. She completed her first quilt years later, a wedding gift for her daughter. After taking formal quilt classes at the Delta Senior Center in Delta, Pa., she purchased a special quilting machine and progressed from fabrication into design.
Her family and many organizations have benefited from her prolific work – each of her 26 family members has multiple quilts of her original design.
Dougherty has also donated many quilts to civic groups for fundraisers. She continues to foster her love of quilting through her membership in Quilting on the Line Quilt Guild.
Dougherty was a Harford County Public Schools teacher for 30 years. While on staff at Harford Technical High School and serving as coordinator of the Vocational Industrial Clubs of America, Dougherty and the VICA students provided catering for quilting shows.