Leni Levenson Wiener is a fabric artist specializing in art quilts, and the author of three books on creating quilts from photographs. (Leni came to QOL in June 2013.) Besides teaching workshops at quilt guilds and quilt shows, Leni frequently gives talks to quilters on color, value and print scale; finding your artistic voice, and trunk shows of her evolution as an artist. In addition, through her website, Leni offers a service to coach emerging artists to help them find their unique voice.
Learn more at her website: http://leniwiener.com/art-quilt-voice-coaching/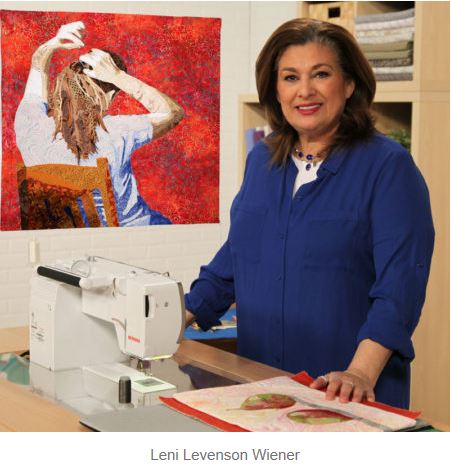 Ten Things To Think About To Find Your Artistic Voice
By Leni Levenson Wiener, republished with permisson.
1. Quilt what you know
Working from your own life experiences will insure your artwork is a reflection of you
2. Embrace what you love
Your artwork should be something you feel compelled to create
3. Abandon what you dislike
Embrace the techniques you enjoy and let go of all the rest
4. Trust your instincts
Don't overthink and over analyze, don't ask everyone for their opinion, trust your intuition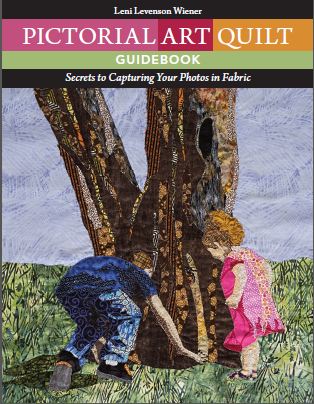 The quilt pictured, entitled "Explorers", is the step by step project featured in Leni Levenson Wiener's  book "Pictorial Art Quilt Guidebook" .
5. Develop your own working style
Take bits and pieces from everywhere, mix them together and toss things aside until you have a set of working skills that reflect who you are as an artist.
6. Decide on message
Think about what you want your art to communicate, then make art that fits your purpose
7. Create a thread of continuity
Spend some time developing pieces that are thematically, technically and/or color related; work in a series, sustaining these will yield a consistent body of work
8. Engage in quiet reflection
Stress and art are not good companions, it is important to periodically disengage from the world around you to reconnect with your inner voice
9. Work for yourself
Stay true to your own vision, don't attempt to create art that you think will be chosen by a particular exhibition or gallery. If it doesn't come from deep within you, it isn't your voice
10. Expect your voice to change
Artists grow and evolve and change throughout their careers. As an artist, you must always stretch yourself and challenge yourself to do more; re-think, re-evaluate, and revisit your approach, your themes and your techniques. If you stand still your work will stagnate and become boring. Follow your voice where it leads you. Art is a path you follow, not a place to reach and rest.